City of Kingman workers at the intersection of Stockton Hill Road, Hualapai Mountain Road and Andy Devine Avenue replacing asphalt last week. Work will continue in the area overnight Monday and Tuesday. (Photo courtesy of City of Kingman Public Works)
Stories this photo appears in: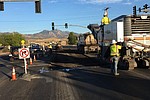 For minor inconveniences of travel, the work being done will do nothing but benefit the City and its residents.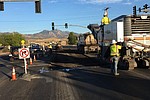 Asphalt replacement projects on Stockton Hill Road are going well and ahead of schedule, but will be delayed for a short time due to paving oil supply chain shortages.
This Week's Circulars
To view money-saving ads
For as little as $3.49*