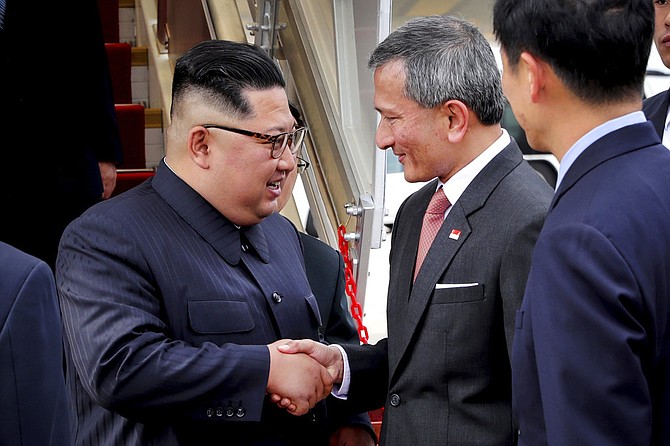 Pictured is North Korean leader Kim Jong Un, left, being greeted by Singapore Minister for Foreign Affairs Dr. Vivian Balakrishnan at the Changi International Airport, Sunday, June 10, 2018, in Singapore, ahead of a summit with U.S. President Donald Trump. (Ministry of Communications and Information Singapore)
Stories this photo appears in:
Redoubling his commitment to "America First" on the most global of stages, Trump will stress his dedication to the primacy of U.S. interests while competing with Western allies for an advantage on trade and shining a spotlight on the threat that he says Iran poses to the Middle East and beyond.
By JONATHAN LEMIRE & ZEKE MILLER, Associated Press
September 24, 2018
North Korea focused on the economy during the country's 70th anniversary
By ERIC TALMADGE, Associated Press
September 10, 2018
President Donald Trump and North Korean leader Kim Jong Un converged on this island city-state Sunday ahead of one of the most unusual and highly anticipated summits in recent world history, a Tuesday sit-down meant to settle a standoff over Pyongyang's nuclear arsenal.
By FOSTER KLUG & CATHERINE LUCEY, AP
June 10, 2018
This Week's Circulars
To view money-saving ads
For as little as $3.49*