Mohave Electric Cooperative CEO Tyler Carlson presented plaques of appreciation to both Sen. Sonny Borrelli and Rep. Regina Cobb at the MEC Annual Meeting at River Valley High School in Mohave Valley Friday. The two, along with letters from 6,600 cooperative members, helped with the passage of SB 1412, a bill that keeps assigned capital credits local. (Photo Courtesy of Zen Mocarski)
Stories this photo appears in: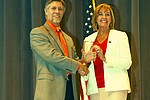 Borrelli and Cobb were awarded with plaques for their work and support during the legislature.