Congressman Paul Gosar has unblocked two constituents from his Facebook page. The congressional attorney is asking for the lawsuit against Gosar to be dropped. (Daily Miner file photo)
Stories this photo appears in: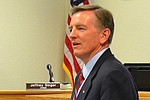 A congressional attorney is asking a federal judge here to toss out a lawsuit demanding that Rep. Paul Gosar be barred from blocking them – or anyone – from his Facebook page. Thomas Hungar, the general counsel for the U.S. House of Representatives, contends that the two people who filed suit have no legal standing.