Rep. Regina Cobb (R-Kingman) addresses Vince Vasquez, MVIDD Division II director and employee of Water Asset Management. To her left, Rep. David Cook (R-Globe), and to her right, Tim Dunn (R-Yuma). (Photo by Travis Rains/Daily Miner)
Stories this photo appears in: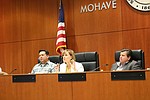 Keeping water in Mohave County was the outcry of residents at Wednesday's public hearing of the Arizona House of Representatives Committee on Energy, Environment and Natural Resources, but some local farmers explained their reasoning behind supporting fallowing programs in Mohave Valley.
This Week's Circulars
To view money-saving ads
For as little as $3.49*