President Donald Trump (White House file photo)
Stories this photo appears in: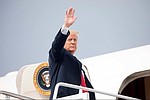 A senior Justice Department lawyer says a former British spy told him at a breakfast meeting two years ago that Russian intelligence believed it had Donald Trump "over a barrel," according to multiple people familiar with the encounter.
By ERIC TUCKER & CHAD DAY, Associated Press
September 4, 2018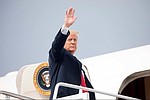 President Donald Trump on Monday signed a $716 billion defense policy bill named for John McCain but included no mention in his remarks of the Republican senator.
By JILL COLVIN & DARLENE SUPERVILLE, Associated Press
August 13, 2018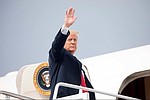 Donald Trump has advised British Prime Minister Theresa May to "sue" the European Union to resolve the tense negotiations over Britain's impending exit from the bloc.
By SYLVIA HUI, Associated Press
July 16, 2018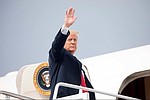 President Donald Trump compares people entering the U.S. from Mexico to invaders and says they should be immediately sent back without appearing before a judge.
By DARLENE SUPERVILLE, Associated Press
June 25, 2018