In this photo taken on Friday, March 2, 2018 and released Saturday, March 10, 2018, Russian President Vladimir Putin speaks during an interview with NBC News' Megyn Kelly in Kaliningrad, Russia. In the some times combative interview Putin denied the charge by U.S. intelligence services that he ordered meddling in the November 2016 vote, claiming any interference was not connected to the Kremlin. (Alexei Druzhinin, Sputnik, Kremlin Pool Photo)
Stories this photo appears in: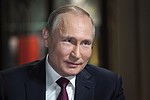 Russian President Vladimir Putin says he doesn't care about alleged Russian interference in the U.S. presidential election because the actions weren't connected to his government.
This Week's Circulars
To view money-saving ads
For as little as $3.49*