Sen. Sonny Borrelli detailed legislation which will require testing of medical marijuana and lower the fees being charged to patients. The bill now goes to the full house.
Stories this photo appears in: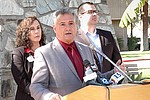 On a 7-1 vote the House Committee on Military, Veterans and Regulatory Affairs approved legislation Monday to require the Department of Agriculture to test what is being sold at state-regulated medical marijuana dispensaries.
This Week's Circulars
To view money-saving ads
For as little as $3.49*