Democratic Sen. Katie Hobbs, shown greeting Gov. Doug Ducey, says this extension will not fix the "fiscal cliff" and will simply maintain the status quo. (File Photo)
Stories this photo appears in: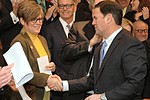 The Arizona Legislature on Thursday overwhelmingly passed legislation extending a sales tax that provides more than $500 million a year for K-12 education, an unexpected move that averts a looming "fiscal cliff" that threatened more than 10 percent of the state's school funding.
By Bob Christie, Associated Press
March 25, 2018