Councilman Stuart Yocum faces a DUI trial in June after being arrested and charged with the offense in May 2017. He is presumed innocent until proven guilty, but since the arrest Yocum has shown that his should not be one of the first faces people see when they look at Kingman. Yocum's driver's license was placed on suspension as a result of his DUI charge. He continued to drive and was convicted April 25 for driving with a suspended, revoked, or canceled license. (Kingman Police Department)
Stories this photo appears in: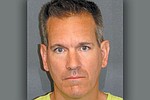 Seven members of our community have been chosen, via the ballot or as a political appointee, to lead the City of Kingman. These seven, City Council, are the face of Kingman. Their desires to make Kingman a better place to live led them to their seats.
This Week's Circulars
To view money-saving ads
For as little as $3.49*