Catherine Walker, executive director of the Kingman Area Food Bank talks about the different areas in the warehouse like where she keeps her produce, meats, and other items. (Photo by Vanessa Espinoza/Daily Miner)
Stories this photo appears in:
The holidays are quickly approaching, especially for the Kingman Area Food Bank. "Oct. 22 is the first day we start handing out Thanksgiving meals," said Cathy Walker, executive director.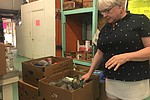 Have you ever wondered if the person next to you at work, school or your neighbor has food to eat? What if they are only able to provide food for themselves and their family for 20 days? What will they do about the rest of the month? But the real question is: What can you do to help?