Survivors walk a special lap at a prior Relay for Life event. (Daily Miner file photo)
Stories this photo appears in: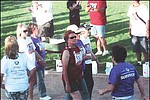 One of the most painful things people can see in life is having to watch another family member, friend or neighbor go through cancer. Not only is it hard on the loved ones, but it is equally if not harder for the people themselves having to battle this horrid sickness.
This Week's Circulars
To view money-saving ads
For as little as $3.49*