Four generations represented in one photo. From front: Brooklyn Steed, 5, Ava Steed, 10, Mary Lou Galvan, Katrina Steed and Ceilia Ceniceros. (Photo by Claire Whitley/Daily Miner)
Stories this photo appears in: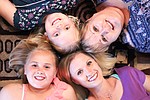 A mother is someone who will laugh and cry with you, help and guide you and always support you and love you. Without our mothers, we wouldn't be here. Motherhood is one of the hardest jobs in the world. It's painful, it's emotional, it's stressful, and it is one of the most important jobs.