Rik Simon, owner of Off-Broadway Photography, submitted a picture he took at Grand Canyon West for the vacant window revitalization project. People shopping, strolling or sightseeing downtown may soon notice a decrease in vacant windows thanks to the combined efforts of property owners, City staff and commissions, and participants at the town hall workshops held last summer.
Stories this photo appears in: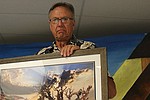 The idea came about through the main street town hall meeting held last summer, and businesses and downtown revitalization advocates are getting on board.