Sue Wilkin sits at the piano at her home in Valle Vista. She was elected to the Northern Arizona Consolidate Fire District board of governors on Nov. 6, returning to her former position after being forced to resign for conflict-of-interest charges. (Photo by Hubble Ray Smith/Daily Miner)
Stories this photo appears in: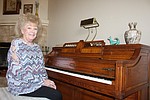 Sue Wilkin feels vindicated with her re-election to the Northern Arizona Consolidated Fire District governing board after being forced to resign over a conflict-of-interest charge that she plea bargained to a misdemeanor.