A Puerto Rican Amazon at Iguaca Aviary. (Photo by Tom MacKenzie/U.S. Fish and Wildlife Service Southeast Region)
Stories this photo appears in: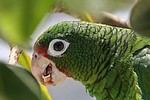 Biologists are trying to save the last of the endangered Puerto Rican parrots after more than half the population of the bright green birds with turquoise-tipped wings disappeared when Hurricane Maria hit Puerto Rico and destroyed their habitat and food sources.
By DANICA COTO, Associated Press
November 23, 2018