Water levels at Lake Mead are near historic lows. Lake Mead is now just 38 percent full. Under the current rules, if the reservoir's water level reaches 1,075 feet above sea level at the end of any year, the federal government will declare a shortage and supplies to Arizona and Nevada will be cut back. (Adobe Images)
Stories this photo appears in: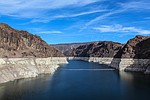 Arizona water managers have been leading a series of biweekly meetings since July to work out details of the proposed drought-contingency plan.