Democratic arguments about health care are resonating with voters in the final weeks before the midterm elections. While Democratic enthusiasm this year has largely been fueled by anger toward President Donald Trump, candidates have targeted their messaging to focus more on health care. (Courtesy photo)
Stories this photo appears in: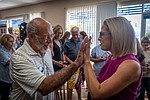 In a windowless conference room, Republican Senate candidate Martha McSally was asking executives at a small crane manufacturing company how the GOP tax cut has helped their business when one woman said: "I want to ask you a question about health care."
By NICHOLAS RICCARDI, Associated Press
October 14, 2018