Once and future Sen. Jon Kyl answers questions Tuesday about being named by Gov. Doug Ducey to replace John McCain, at least through the end of this congressional session. (Capitol Media Services photo by Howard Fischer)
Stories this photo appears in: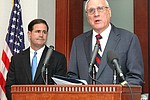 The announcement comes less than a week after Rick Davis, McCain's former campaign manager, said he thought that his former boss would have liked to see his seat filled by a Hispanic woman. Instead he got an older white male who previously served in Congress for 26 years, 18 of those in the Senate.