Jennifer Jones-Esposito, who lost her bid for a seat in the Arizona House of Representatives for District 5 on Aug. 28, was charged in June with two counts of no dog license, both misdemeanors. She is claiming these charges and the timing of their dismissal were the reasons she was not elected. (Submitted photo)
Stories this photo appears in: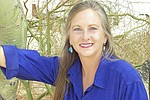 A former candidate for the Arizona Legislature intends to file suit against Mohave County for her loss in last week's election.
By Chelsea Curtis, Today's News-Herald
September 7, 2018
This Week's Circulars
To view money-saving ads
For as little as $3.49*