Countless Catholics in the U.S. who are raising their voices in prayer and protest to demand change amid new revelations of sex abuse by priests and allegations of widespread cover-ups. They are doing letter-writing campaigns and holding prayer vigils and listening sessions in an effort to bring about change from the pews, realizing it's up to them to confront the problem and save the church they love after years of empty promises from leadership.
Stories this photo appears in: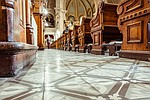 Some of the efforts are calling for specific reforms, such as laity-led investigations and transparency, while others are still brainstorming solutions.
By AMY FORLITI, Associated Press
September 9, 2018
This Week's Circulars
To view money-saving ads
For as little as $3.49*