According to court documents, the warrant was issued Sept. 6 in Parker Justice Court after Rep. Paul Mosley failed to appear to a Sept. 5 court appearance. Mosley, who lives in Lake Havasu City, is charged with excessive speed, the documents show. (File photo)
Stories this photo appears in: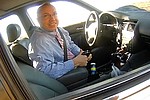 An arrest warrant has been issued for State Rep. Paul Mosley, who was allegedly caught speeding along State Route 95 approximately six months ago.
By John Gutekunst & Chelsea Curtis, Today's News-Herald
September 14, 2018
This Week's Circulars
To view money-saving ads
For as little as $3.49*