Gubernatorial hopefuls David Garcia, left, Angel Torres to left of host Ted Simons, and incumbent Doug Ducey debate issues Monday night. (Capitol Media Services photo by Howard Fischer)
Stories this photo appears in: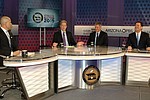 During their first face-off in Phoenix on Monday, Ducey and Garcia quibbled over border and education policies, with Garcia complaining about attack ads he characterized as bigoted. The second debate on Tuesday night was in Tucson.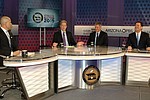 Ducey and Garcia will face off again Tuesday at an event in Tucson; Torres was not included.