A California condor soars above the Los Padres National Forest. The Mail Tribune reports Friday, April 5, 2019, that Northern California's Yurok Tribe, the National Park Service and the U.S. Fish and Wildlife Service issued a detailed plan for the reintroduction in a recent environmental impact report. (Photo by U.S. Fish and Wildlife Service: Pacific Southwest Region)
Stories this photo appears in: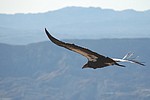 A plan to reintroduce the California condor to the Redwood National Forest could mean the giant raptors will eventually repopulate Oregon's Rogue Valley as well, a newspaper reported Friday.