In this 2018 file photo, Don Swanz works on a garden plot at Dig It Community Garden for his friend Teresa Faatz, who is growing beans and peppers at the garden. The Garden is holding its third annual Earth Day Celebration between 9 a.m. and 11 a.m. Saturday, April 20 at 2301 Lillie Ave. (Daily Miner file photo)
Stories this photo appears in: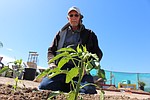 How do you feel about rolling pine cones in peanut butter and seeds and feed it to birds? Sounds fun? How about dyeing wooden eggs and dropping seed bombs to spread new plants? Dig It Community Garden are celebrating both Earth Day and Easter this Saturday, April 20 between 9 a.m. and 11 a.m. at 2301 Lillie Ave.