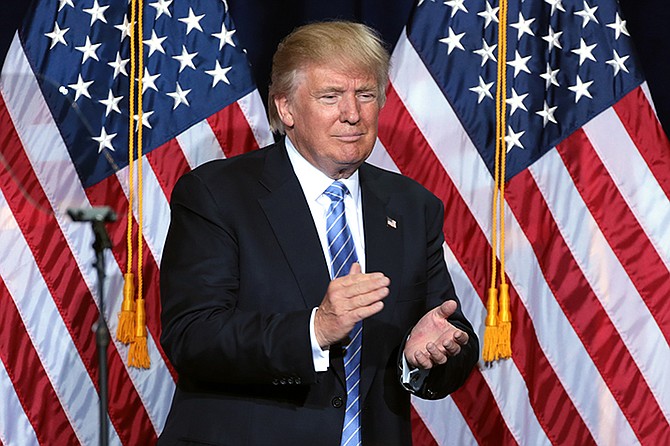 President Donald Trump (By Gage Skidmore from Peoria, AZ, United States of America - Donald Trump, CC BY-SA 2.0, https://bit.ly/2vezSHP)
Stories this photo appears in:
Senator Sinema threatened with censure by the progressives (regressives) in her own party
Congressional Democrats on Monday pressed their demands for full disclosure of a whistleblower's complaint about President Donald Trump and intensified their calls for impeachment.
By LISA MASCARO and MARY CLARE JALONICK Associated Press
September 23, 2019
The media should cover Trump, not play his game – The president would like for his game to be the only game being played. Too bad for him there are reporters who want to have the truth come out. Even Fox News faces up to reality at times.
Trump and the NRA - Did anyone REALLY think that our president would go against the NRA? Lest we forget his eldest son is an avid TROPHY HUNTER. Who kills endangered animals for fun. Who could even raise such a person?
President Donald Trump is not a hunter or angler, but he knows the importance of these activities to the American public. He also knows how important access is to federal lands and waterways by the American public.
President Donald Trump signed an executive order Monday that calls for upfront disclosure by hospitals of actual prices for common tests and procedures to help keep costs down.
By RICARDO ALONSO-ZALDIVAR, Associated Press
June 24, 2019
The Senate has voted to block the Trump administration from selling arms to Saudi Arabia, launching a new challenge to President Donald Trump's alliance with the country amid rising tensions in the Middle East.
By SUSANNAH GEORGE, Associated Press
June 20, 2019
Sitting in my car grabbing a quick lunch, I noticed a small animal that I thought to have expired. It lay on its side with its eyes closed and stretched out on its belly.
By Sally Morisset, Golden Valley resident
June 13, 2019
President Donald Trump criticized social media companies after Facebook banned a number of extremist figures
President Donald Trump lashed out Friday at current and former aides who cooperated with special counsel Robert Mueller's investigation, insisting the deeply unflattering picture they painted of him and the White House was "total bullshit."
By JILL COLVIN Associated Press
April 19, 2019