Tencha Valdez turned 80 Thursday, April 25. She celebrated with her family and friends Saturday and was given a tiara, something she has always wanted, by her children. (Rachel Turnbow/Submitted photo)
Stories this photo appears in: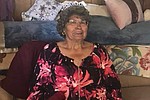 A lot can happen in 80 years. A world war, the work of Albert Einstein, completing the human genome project, and the birth of Tencha Valdez.