A view of portion of town of Oatman looking Northwest taken around 1918. While Oatman itself was considered a dry mining town, that didn't stop the 49 camp from thriving just a mile outside the boundary. Several men from the 49 camp outside of Kingman were arrested in 1916 on charges of white slavery, a form of human sex trafficking. (Photo courtesy Mohave Museum of History and Arts)
Stories this photo appears in: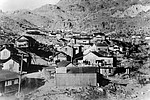 It started with an advertisement promising work to women between the ages of 21 and 35. They just had to go to Oatman and enter the dance hall at the "49" camp.