Matthew Johnson, 21, of Yucca, has little luck Monday at Mesquite Bay. (Photo by Brandon Messick/Today's News-Herald)
Stories this photo appears in: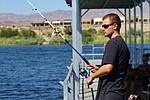 Got something on your mind? Tell us about it in 40 words or less. If your rant or rave is about a specific story, please mention the headline.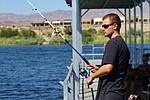 Kingman might be getting a fishing pond.
By Brandon Messick, Today's News-Herald
August 19, 2019