(Photo by Agata Popeda/Daily Miner)
Stories this photo appears in: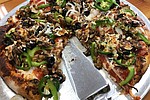 Hall family mixes pizza, politics and patriotism – God bless you Halls. Our new pizza stop. Odd -libs get away with calling President Trump every name in the book including nazi, liar, Russian spy but defend him and there's hell to pay.