KRMC is the only rural hospital in Arizona to have an Emergency Medicine Residency Program. Here, future physicians gain vital experience in rural emergency medicine while training in KRMC's busy emergency department. (Daily Miner file photo)
Stories this photo appears in: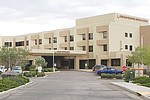 The United States is currently facing a shortage of physicians, especially in rural areas.
This Week's Circulars
To view money-saving ads
For as little as $3.49*