Rep. Travis Grantham, R-Gilbert, said he believes that if companies can pay some of their part-time workers less than the voter-mandated minimum, currently $11 an hour, they will hire more young people. He said the higher wage deters employers from bringing on people and training them. (Adobe Images)
Stories this photo appears in: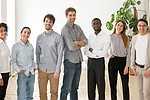 Insisting it will be good for young people, a House panel voted Monday to let employers pay students who are part-time workers just two-thirds as much as they do anyone else.
This Week's Circulars
To view money-saving ads
For as little as $3.49*