Judge Jeffrey Singer administered the oath of office to Mayor Jen Miles in this Dec. 5, 2018 photo. City judges and magistrates may have to face the voters rather than attain reappointments from city councils. (Daily Miner file photo)
Stories this photo appears in: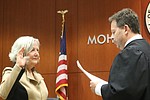 Saying magistrates can be squeezed politically, a House panel voted Wednesday to all but strip city councils of their ability to fire them.
This Week's Circulars
To view money-saving ads
For as little as $3.49*