Kade Juelfs shoots a buzzer-beating 3-pointer in the second quarter Thursday against Prescott. Juelfs led Lee Williams with 20 points in a 74-36 blowout win. (Photo by Beau Bearden/Daily Miner)
Stories this photo appears in: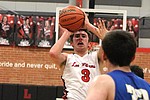 The last time the Lee Williams High School basketball team took the court, it suffered a 20-point loss to Dysart on Dec. 17.