One of the many projects funded by the Classroom Grants Program was the 2014 Butterfly Life at Desert Valley Elementary School. The Mohave Electric Cooperative grants program began in 1996 to support local educators. There are 18 grants available in 2019. Applications must be submitted by 5 p.m., March 15. (Photo courtesy of MEC)
Stories this photo appears in: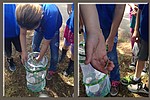 Mohave Electric Cooperative is supporting education through its 24th annual Classroom Grant Program.