"I think the Board of Supervisors has been discussing that and looking at some factors," Miles said in regards to relocation of the fairgrounds. "But I think this one resolution that we proposed would not be a defining criteria for whether they'll relocate the fairgrounds."
Stories this photo appears in: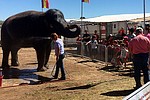 Woods doesn't think there's a safety issue. He said he has found no evidence of a dangerous animal attack in Kingman.