Andrew Ambos and his dog, Dog, at Gold King Mansion in the Hualapai Mountains. (Photo by Michelle Drumheller/Courtesy)
Stories this photo appears in: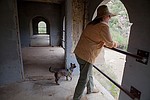 "Howdy Kingman" is a guidebook the world needs to tour this area properly. From old cars to native petroglyphs on rocks, if it is within a two-hour drive, Michelle Drumheller and Andrew Ambos have it covered and will give you directions that work.