Rep. Regina Cob (R-Kingman) spoke on the $20 million appropriation for the Rancho Santa Fe traffic interchange at a press conference with the City held Thursday, June 20. (Photo by Vanessa Espinoza/Daily Miner)
Stories this photo appears in: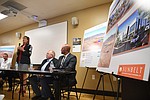 It's been more than 40 years since the City of Kingman recognized the need for an additional route in and out of the Kingman Airport and Industrial Park. Over the years, the community has had its hopes dashed periodically as progress seemed to be made before halting for one reason or another.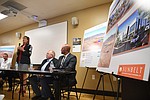 "There's an old saying that alone we can do little, together we can do so much."