The volunteers entered the park in August 2017 to put out water and food for migrants walking through the broiling desert. They were later charged with entering a wildlife refuge without a permit. Hoffman was also charged with driving a vehicle in a protected wilderness area. (U.S. Customs and Border Protection photo)
Stories this photo appears in: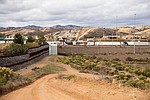 Prosecutors last month dropped criminal prosecution of a separate set of No More Deaths volunteers in another case.
This Week's Circulars
To view money-saving ads
For as little as $3.49*