Sheriff Doug Schuster, left, will present his request to the Mohave County Board of Supervisors for approval at the board's Monday meeting. Under the proposed request for grant funding from the Governor's Office of Highway Safety, Schuster will be asking for $16,132 for a crash data recorder, and $9,698 for two speed awareness trailers to be used by county deputies. (Today's News-Herald, file photo)
Stories this photo appears in: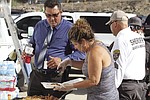 The Mohave County Sheriff's Department is requesting more than $25,000 from the state to fight speeding.
By Brandon Messick, For the Daiy Miner
March 30, 2019