The life cycle of Coccidioides spp. (Valley Fever Center image)
Stories this photo appears in: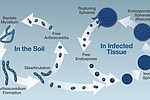 Valley Fever has increased: Has anyone ever looked at the correlation of disturbed soil from all the farming operations way out on Stockton Hill Road and around Valle Vista as the cause of increased cases of Valley Fever?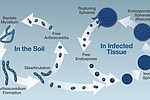 The Daily Miner received a letter from a reader concerned with recent local cases of pneumonia that look a lot like Valley Fever. The reader suggested collecting soil sample for testing to determine if the fungal spores are in fact found in the ground.