Michael Romero began doing electrical work soon after his release from prison in 1998, but faced continued setbacks because of his struggles at the time with drugs. (Photo by Daniel Perle/Cronkite News)
Stories this photo appears in: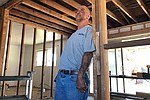 Michael Romero looks like someone who has worked with his hands for a long time. His muscular forearms make the many tattoos that cover them seem like pop art. Among them are the numbers 93 and 94, etched on the skin of his left forearm to represent two of the five years Romero spent in prison for selling cocaine.
By Daniel Perle, Cronkite News
May 12, 2019