Kingman's zoning ordinance, at least in regards to setback requirements for accessory structures, has remained more or less the same since 1971. If a structure was installed before then, it could be grandfathered in. However, if improperly installed after that point in time, the owner could one day have to relocate the shed. (Photo by Vanessa Espinoza/Daily Miner)
Stories this photo appears in: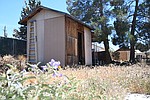 A family moves to a Kingman home with more than enough space to accommodate them, or a retired couple settles down to spend their sunset years in the Heart of Route 66.