Matt Gress, Gov. Doug Ducey's budget director, spoke to Kingmanites about the proposed Fiscal Year 2020 budget in February. (Daily Miner file photo)
Stories this photo appears in: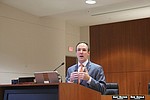 It looks as if the I-11 East Kingman Connection Project could receive $20 million for "two interchanges in east Kingman" based on Gov. Doug Ducey's proposed budget, however, there are two hurdles that must be overcome before work can begin.