Apollo 11 crew, of Armstrong and Aldrin, in Building 9 practicing the lunar extravehicular activity (EVA) sequences. (NASA photo)
Stories this photo appears in: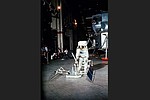 Landing on the moon was the talk of the nation in the 1960s. Many people who were alive then got to experience history being made, and those who didn't get to witness it can learn about one of the famous missions to the moon.