Kingman Regional Medical Center is working with the City of Kingman to install a new pedestrian crosswalk on Beverly Avenue. (Photo by Travis Rains/Kingman Daily Miner)
Stories this photo appears in: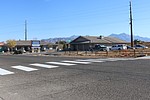 Submit Rants and Raves at kdminer.com/rants-and-raves or email editorial@kdminer.com.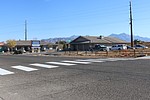 Motorists and pedestrians alike will soon notice a new crosswalk on Beverly Avenue, courtesy of Kingman Regional Medical Center and the City of Kingman.