You slam on the brakes, but it's too late. You hit the buck, and he lands in the road. The buck is dead. (Adobe Images)
Stories this photo appears in: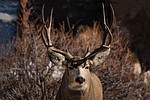 With the fall deer season set to start in a couple of weeks, a lot of hunters will be in the field scouting. Smart ones will stay out until dark as the deer seem to be getting up later in the day to feed.