If Arizona adds a congressional seat after the 2020 U.S. Census, which seems likely according to new U.S. Census Bureau statistics, it could result in the creation of a river district that stretches south to Yuma. That could have an impact U.S. Rep. Paul Gosar (R-Prescott), who currently represents Kingman in the U.S. House of Representatives. (Miner file photo)
Stories this photo appears in: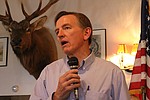 I e-mailed my congressman, Paul Gosar, back in early September.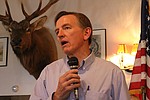 It looks like Arizona will be gaining some national political clout at the expense of California. Or maybe Illinois. Or Michigan.