Congress is demanding that U.S. President Donald Trump explain his reasoning for the drone strike that killed an Iranian general in Baghdad on Friday, Jan. 3, 2020. (Photo by Gage Skidmore, cc-by-sa-3.0, https://bit.ly/2rfNh43)
Stories this photo appears in: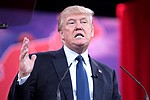 Let us know what's on your mind in 40 words or less. Submit Rants and Raves at kdminer.com/rants-and-raves or email editorial@kdminer.com. If your rant/rave is about a specific story please mention the headline.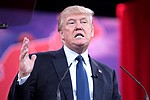 President Donald Trump insists that Iranian cultural sites are fair game for the U.S. military, dismissing concerns within his own administration that doing so could constitute a war crime under international law.
By ROBERT BURNS, Associated Press
January 6, 2020