In this photo made available by U.S. astronaut Christina Koch via Twitter on Dec. 26, 2019, she and Italian astronaut Luca Parmitano pose for a photo with a cookie baked on the International Space Station. Researchers want to inspect the handful of chocolate chip cookies baked by astronauts in a special Zero G oven. (NASA photo)
Stories this photo appears in: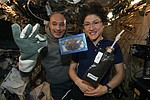 The first batch of space-baked cookies is back on Earth, along with muscle-bound "mighty" mice and other space station experiments.
By MARCIA DUNN AP, Aerospace Writer
January 7, 2020